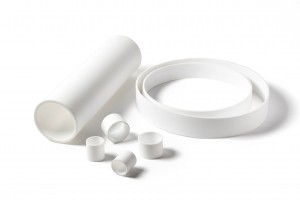 PTFE material (Polytetrafluoroethylene) is used by Elekem to manufacture products suitable for a range of industries. PTFE plastic is an inert, non-toxic fluorocarbon resin containing many unique characteristics such as:
Excellent chemical resistance
High thermal stability
Can be used at both high and very low temperatures (-200 to +260°C)
Excellent electrical resistance
Good chemical resistance
In addition to its non-stick low friction properties, PTFE plastic is favoured for sliding applications where high temperature and resistance to aggressive chemicals are paramount.
Compared to other high performance engineering plastics, PTFE material holds low mechanical strength and a high specific gravity. Additives such as carbon, glass fibre or bronze can be used in order to improve PTFE's mechanical properties.
Elekem has progressively developed isostatic moulding as the preferred compression method, allowing the production of more complex shapes, including long thin walled tubes and encapsulation of metal components. Elekem's' production expertise combined with the extraordinary properties of PTFE materials result in a broad range of applications.