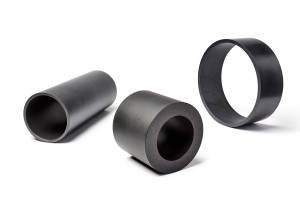 Elekem manufactures carbon filled PEEK tubes under the trade name TECAPEEK SM CF. Similar to glass fibres, the introduction of carbon fibres also enhances:
Mechanical strength
Rigidity
Creep strength
Dimensional stability
However, carbon filled PEEK benefits from:
Better weight-to-strength ratio
Carbon fibres are not as abrasive as glass fibres and are consequently suitable for sliding applications.
Filler ratio can be adjusted for customised application requirements.