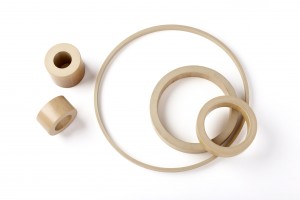 Elekem specialises in the production of PEEK (Polyetheretherketone) spin moulded tube manufactured exclusively from Victrex® PEEK polymer under the trade name TECAPEEK SM tubes. The company continues to expand its range of spin moulded PEEK tubing with a wide variety of wall thicknesses for key applications where high performance materials are required.
Our spin moulded PEEK tube offers a variety of properties that benefit a wide range of applications, especially those within the oil and gas industry, where high temperature, mechanical strength and high chemical resistance are key requirements.
Continued investment and development of our novel spin moulded process gives us distinct advantages over other PEEK processes, allowing us to offer the following:
Low inherent stress within the billets – better dimensional stability
Greater flexibility in sizes
Thin wall PEEK tube to produce near-net-shape tube, thus minimising finished component machining time
Increased wall-thickness is available
Full material traceability
A significantly faster production process
No MOQ is required allowing small orders to be filled within days economically
Ship from stock agreements available for next day delivery
Selected filler grades of TECAPEEK SM tubes are also available to enhance application performance, typically glass fibres, carbon fibres and PTFE, with their filler ratios able to be adjusted for special purpose requirements.